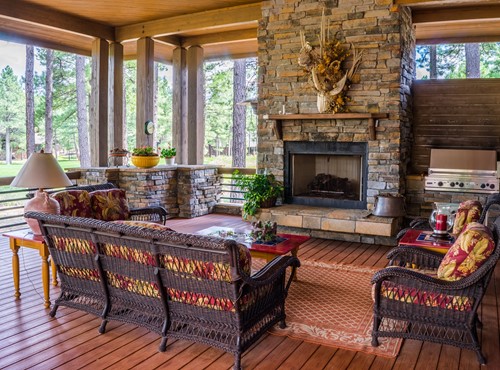 Outdoor living spaces help you get more use out of your yard, whether you enjoy grilling or just being able to sit outside and unwind. If you're planning an outdoor living space, you might be surprised to discover just how many options you have in terms of design and function. Consider going with one of the latest trends in outdoor living spaces to make the most of this part of your home. Here are some of the top outdoor living space trends to incorporate into your design.
Year-Round Outdoor Living Spaces
The typical outdoor living space used to just be a deck or patio with a freestanding grill, table and chairs. However, these spaces are becoming much more elaborate. More and more homeowners are also showing interest in being able to use these outdoor spaces all year round rather than only when the weather is nice.
There are several ways to make your outdoor living space a place you can enjoy throughout the seasons. You can cover your outdoor living area for shade and shelter, and add screens on the sides to keep bugs out. You can even add HVAC equipment to keep this area heated or cooled if needed. With enough shelter, as well as heating and cooling options, you can use your outdoor living space all year.
Comforts of Home
Outdoor living spaces should provide a comfortable place to relax or hang out with family and friends. If you find traditional patio or deck furniture uncomfortable, keep in mind that you can design an outdoor living space that feels as cozy as an interior room. Your outdoor living space can have living room furniture in it rather than deck chairs or traditional patio furniture. You can also have a fireplace built into your outdoor living space to mimic the look and feel of an indoor living room. Creating this kind of outdoor area can encourage you to use this space as often as possible.
Seamless Indoor and Outdoor Transitions
Outdoor living spaces can feel like a natural extension of your home rather than separate areas. To achieve this effect, you can create a seamless transition between the interior of your home and an outdoor living space. For example, you might use the same kinds of flooring and decor for both areas, which creates a natural flow between these spaces. Arranging furniture in a way that makes both spaces feel connected is another way to accomplish this transition. You can also place outdoor furniture in the interior part to maintain the same decor in both areas.
Subtle Lighting
Outdoor living space trends are focusing more on subtle lighting for these areas. Using more subtle lights helps create the right ambiance for these outdoor areas while providing enough illumination. Rather than using harsh lighting, you might choose pendant fixtures with softer lighting for an outdoor dining area. You can also use down lighting in trees to shed soft light onto your outdoor living space, or line your patio or deck with recessed lights in the floor. Choose lower-watt bulbs for lighting fixtures in outdoor living spaces to avoid too much brightness.